Introduction
University Canada West (UCW) is a private, for-profit, university in British Columbia, Canada. It was founded in 2005 by David F. Strong, the former president of the University of Victoria. UCW was purchased in 2008 by the Eminata Group and in 2014 sold to Global University Systems, its present owners. Based in downtown Vancouver, the university offers undergraduate and post-graduate programs in business and management.

Programs

Undergraduate

Bachelor of Commerce
This ACBSP-accredited program combines theoretical and practical learning to give you a true understanding of modern business. It will prepare you for a successful career in business or management.

Bachelor of Arts in Business Communication

Available as an on-campus or online program, this degree will develop your core skills in writing and research and equip you with a comprehensive understanding of all types of business communication.

Associate of Arts

The Associate of Arts Degree is an interdisciplinary set of courses that cultivate core skills in writing, communication, research and team performance. It will prepare students for additional post-secondary education or to enter the workforce.

Graduate

Master of Business Administration
At University Canada West, we offer graduate students a full MBA degree program accredited by the ACBSP. UCW MBA graduates become effective leaders both nationally and internationally.

MBA Foundation

If you are looking to study an MBA but do not have the professional or academic qualifications then you have the option of completing a set of four MBA Foundation courses online or on-campus.
Entry Requirements
| | |
| --- | --- |
| Test | Minimum Score for Admission |
| Academic IELTS | 6.5 overall with minimum of 6.0 in the writing band |
| TOEFL iBT | 88 overall with minimum of 20 in each component |
| PTE Academic | 61 overall with minimum score of 60 in writin |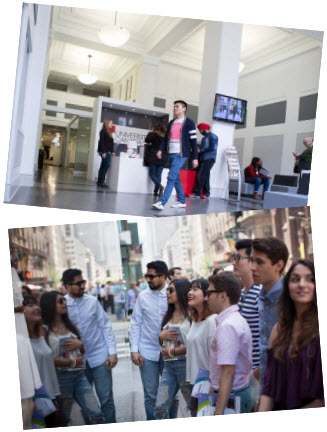 Tuition & Fees
A full description of tuition and fees is available at: https://ucanwest.ca/admissions/tuition-fees
Basically, a bachelor's tuition is $69,600 for entire 4 years. MBA program costs $35,100.

Scholarships
University Canada West (UCW) entrance awards, scholarships and grants are available to new students applying to a UCW undergraduate or graduate program. You must apply by the Entrance Award Application Deadline which is two (2) weeks before the start of your first term at UCW.
You can receive only ONE (1) award, scholarship or grant. Review the conditions of each option carefully and supply ALL of the required supporting documentation for those scholarships, awards or grants for which you wish to be considered. A limited number of each award, scholarship or grant will be available each term.
For more information, please visit: https://ucanwest.ca/admissions/awards-scholarships
| | |
| --- | --- |
| Award | Value |
| University Canada West Founder's Scholarship | Up to $12,000 |
| International Student Leaders Award | Up to $12,000 |
| Scholarships for Academic Excellence | Up to $20,000 |
| MBA Foundation Study Grant | $6,500 |
| LATAM Regional Grant | Up to $18,900 |
| Southeast Asia (SEA) Regional Grant | Up to $18,900 |
| Live Our Vision of Education (L.O.V.E.) Canada Undergraduate Scholarship | $5,000 |
| MBA Excellence Scholarship for Continuing Students | $2,000 |
Dealines
At least 35 business days prior to 1st day of term.

Living in British Columbia

As one of the most beautiful provinces in Canada and one of the top tourist spots, British Columbia offers some of the last truly wild country in North America as well as some of the most exciting cities. With a population of over 4.5 million people, most residents tend to live in Vancouver and the capital city, Victoria.
With so much undeveloped land, British Columbia has become a prime destination for the film industry, with vast areas free of power-lines, roads, fences or any other modern features to spoil the shot. British Columbia has the third largest film industry in North America, right after Hollywood, and New York and is often referred to as, "Hollywood North."
This province is blessed with an abundance of natural resources, meaning that the most lucrative industries are agriculture, fishing and mining. As a strong and growing economy, job opportunities open up often in construction, manufacturing and education.

Activities

Before setting off on your journey to University Canada West, it is important that you have everything you need to begin your life at the University. You can find out some useful information at: https://ucanwest.ca/students/new-students
A.N.T Co., Ltd
A.N.T. Co., Ltd committed to help the students to reach their full potential. If you have any question or requirement, we are happy to help you at:
4th Floor (P1.0458 - P1.0459), The Prince Residence
17-19-21 Nguyen Van Troi St., Ward 12, Phu Nhuan District, Ho Chi Minh City
028 39 902 246 | 08 38 6666 13 | 0913 6666 13

www.antco.vn
www.applyus-canada.com